AZD7545
CAS No. :

252017-04-2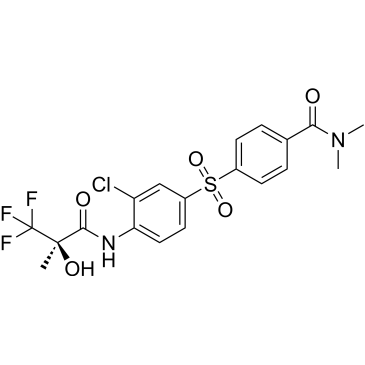 | | |
| --- | --- |
| Cat. No. : | CS-1740 |
| M. Wt. : | 478.87 |
Size
Stock
Price
Quantity
Add to Cart
Quotation Online

5mg

In-stock

USD

128.0

128.0

10mg

In-stock

USD

190.0

190.0

50mg

In-stock

USD

670.0

670.0

100mg

In-stock

USD

1030.0

1030.0
Products are for research use only. Not for human use. We do not sell to patients.
Your information is safe with us. * Required Fields
Data Sheet

Introduction

SDS

COA & Spectra
| | |
| --- | --- |
| Name: | AZD7545; |
| Cat. No. : | CS-1740 |
| CAS No. : | 252017-04-2 |
| Formula: | C19H18ClF3N2O5S |
| M. Wt. : | 478.87 |
| Solubility: | DMSO : ≥ 46 mg/mL |

Download Data Sheet
Activity:
AZD7545 is a potent, competitive, selective PDHK2 (pyruvate dehydrogenase kinase 2) inhibitor with IC50s of 36.8 nM, 6.4 nM for PDHK1 and PDHK2, respectively[1]. IC50 & Target: IC50: 6.4 nM (PDHK2), 36.8 nM (PDHK1)[1] In Vitro: AZD7545 (10 μM; 90 hours for BRAFV600E human melanoma cells and 120 hours for NRAS mut human melanoma cells) specifically suppresses growth of cells harboring BRAF and NRAS mutations as well as in inhibitor-resistant human melanoma[2].
In Vivo: A single dose of AZD7545 (Oral administration; 10 mg/kg once a day (08:00 h) or Twice a day (08:00 and 18:00 h); for 7 days) to Wistar rats increases the proportion of liver PDH in its active, dephosphorylated form in a dose-related manner. A single dose of 10 mg/kg also significantly elevates muscle PDH activity in obese Zucker (fa/fa) rats[3].
Protocol:
nimal administration [1] AZD7545 is given orally to Wistar rats and 3 h later tissues are removed to assay for PDH activity. Total PDH activity is measured following incubation of extracts with PDH phosphatase and bivalent cations and PDH activity is expressed as a percentage of the total activity. Fasted rats are deprived of food for 14 h prior to administration of the compound. Results are means±S.E.M. from six animals. *, ** and *** indicate significant differences (P<0.05, P<0.01, P<0.001 respectively) from the corresponding values for control animals.
References:
Cesi G et al. ROS production induced by BRAF inhibitor treatment rewires metabolic processes affecting cell growth of melanoma cells. Mol Cancer. 2017 Jun 8;16(1):102.
Mayers RM, et al. AZD7545, a novel inhibitor of pyruvate dehydrogenase kinase 2 (PDHK2), activates pyruvate dehydrogenase in vivo and improves blood glucose control in obese (fa/fa) Zucker rats. Biochem Soc Trans. 2003 Dec;31(Pt 6):1165-7.
Morrell JA, et al. AZD7545 is a selective inhibitor of pyruvate dehydrogenase kinase 2. Biochem Soc Trans. 2003 Dec;31(Pt 6):1168-70.
We apologize for the inconvenience. The Certificate of Analysis you requested is not currently available on-line:
1. The Lot Number you requested may have been entered incorrectly. How to get a Lot Number
2. The COA of the Lot you requested has not been added to our database.
Tags:AZD7545 supplier,AZD7545 purchase,AZD7545 manufacturer,AZD7545 sigma,AZD7545 distributor,cost,AZD7545 buy,AZD7545 for sale