GNF-7
CAS No. :

839706-07-9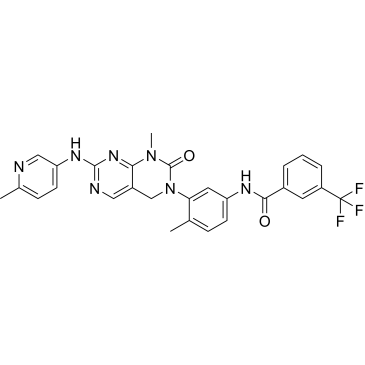 | | |
| --- | --- |
| Cat. No. : | CS-5551 |
| M. Wt. : | 547.53 |
Size
Stock
Price
Quantity
Add to Cart
Quotation Online

5mg

In-stock

USD

108.0

108.0

10mg

In-stock

USD

180.0

180.0

25mg

In-stock

USD

360.0

360.0

50mg

In-stock

USD

648.0

648.0

100mg

In-stock

USD

1152.0

1152.0
Products are for research use only. Not for human use. We do not sell to patients.
Your information is safe with us. * Required Fields
Data Sheet

Introduction

SDS

COA & Spectra
| | |
| --- | --- |
| Name: | GNF-7; |
| Cat. No. : | CS-5551 |
| CAS No. : | 839706-07-9 |
| Formula: | C28H24F3N7O2 |
| M. Wt. : | 547.53 |
| Solubility: | DMSO : ≥ 33 mg/mL |

Download Data Sheet
Activity:
GNF-7 is a multikinase inhibitor. GNF-7 is a Bcr-Abl inhibitor, with IC50s of 133 nM and 61 nM for Bcr-AblWT and Bcr-AblT315I, respectively. GNF-7 also possesses inhibitory activity against both ACK1 (activated CDC42 kinase 1) and GCK (germinal center kinase) with IC50s of 25 nM and 8 nM, respectively. GNF-7 can be used for the research of hematologic malignancies[1][2][3]. IC50 & Target: IC50: 133 nM (Bcr-AblWT)[1], 61 nM (Bcr-AblT315I)[1], 25 nM (ACK1)[3], 8 nM (GCK)[3] In Vitro: GNF-7 potently inhibits wild-type Bcr-Abl (IC50<5 nM) and Bcr-Abl mutants such as T315I (IC50=11 nM), G250E (IC50<5 nM), E255V (IC50=10 nM), F317L (IC50<5 nM) and M351T (IC50<5 nM) in cellular assays[2].
GNF-7 (1 μM; 2 hours) suppresses AKT/mTOR signaling and GCK downstream[3].
GNF-7 (1 μM; 24 hours) induces of apoptosis and cell cycle arrest in NRAS mutant cell lines[3].
In Vivo: GNF-7 (10-20 mg/kg; o.p.; daily; for 7 days) displays significant in vivo efficacy against T315I Bcr-Abl in the bioluminescent xenograft mouse model[2].
GNF-7 exhibits moderate oral bioavailability (mice 36%) and Cmax (mice 3616 nM) following oral administration (mice 20 mg/kg)[2].
GNF-7 exhibits terminal elimination half-lives (mice 3.8 h) due to high plasma clearance (8.6 mL/min/kg) following intravenous injection (mice 5 mg/kg)[2].

Protocol:
Animal administration [1] GNF-7 was dissolved in a 100% PEG300 solution formulation (2.5 mg/mL) and dosed at 5 mg/kg intravenously via the lateral vein (n=3). Five to six week old male Balb/c mice (20-25 g) were obtained from Jackson Laboratory. The oral dose was prepared in a 1:1 formulation of PEG300 and distilled water and administered at 20 mg/kg via oral gavage (n=3). Five blood samples (50 μL) were serially drawn via retro orbital sinus within 24 hours after dosing. Plasma concentrations of GNF-7 were quantified utilizing a Liquid Chromatography/Mass Spectrometry (LC/MS/MS) assay. Pharmacokinetic parameters were calculated by non-compartmental regression analysis using Winnonlin 4.0 software.
References:
Cho, H., et al. First SAR study for overriding NRAS mutant driven acute myeloid leukemia. Journal of Medicinal Chemistry.
Lu X, et al. Hybrid pyrimidine alkynyls inhibit the clinically resistance related Bcr-Abl(T315I) mutant. Bioorg Med Chem Lett. 2015 Sep 1;25(17):3458-63.
Choi HG, et al. A type-II kinase inhibitor capable of inhibiting the T315I "gatekeeper" mutant of Bcr-Abl. J Med Chem. 2010 Aug 12;53(15):5439-48.
We apologize for the inconvenience. The Certificate of Analysis you requested is not currently available on-line:
1. The Lot Number you requested may have been entered incorrectly. How to get a Lot Number
2. The COA of the Lot you requested has not been added to our database.
Tags:GNF-7 supplier,GNF-7 purchase,GNF-7 manufacturer,GNF-7 sigma,GNF-7 distributor,cost,GNF-7 buy,GNF-7 for sale